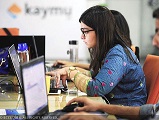 The NMJC Testing Center administers exams for online courses. Students are logged onto Respondus Monitor and monitored with audio and visual surveillance equipment.
Students need to bring a picture ID. Please leave all personal belongings at home or in your car. The Testing Center is not responsible for any items that may be stolen.
Appointments can be scheduled online through the T birdWeb portal. Click on the Self-Service Banner and under the student tab you will find "Schedule Testing Center Appointment". Please fill out all the information requested.