From the President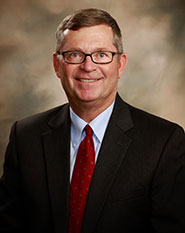 Welcome to the web site of New Mexico Junior College. I hope you are looking for a terrific college experience because I know you have found the right place. NMJC is a comprehensive community college; the NMJC mission is to promote "success through learning."Community colleges have become the primary choice of many students because of their educational opportunities and affordability. New Mexico Junior College has long served the educational needs of the southeastern New Mexico region with its great instructional reputation.
Our technical programs, academic transfer arrangements and workforce initiatives offer many choices and opportunities for your future. It becomes our goal to "open" the doors of opportunity for you and your responsibility to walk through those doors.
Our student services and collegiate activities are designed to complement this array of educational choices. You have the opportunities to gain knowledge, learn new skills, develop leadership, and acquire many new friends from the New Mexico Junior College student body and staff.
Use your time wisely to learn, grow, and achieve your educational goals. The faculty and staff of New Mexico Junior College stand ready to help you. Please feel free to call on one of us, if you need help.
Best wishes to you.

Kelvin W. Sharp, Ed.D.
President
New Mexico Junior College