Entertainment and Music Technology
Interested in a degree in entertainment production?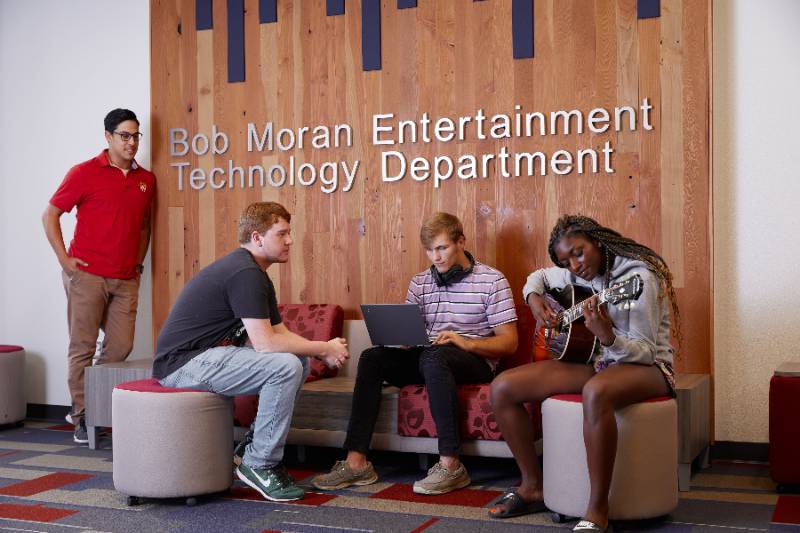 The Entertainment and Music Technology program at New Mexico Junior College prepares students for a multifaceted career in the entertainment and music industry as technology specialists. This two-year program is designed to provide students with comprehensive academic training and practical, real-world experience in various fields including
Live sound production
Recording engineering
Lighting production
Video production
Web design
Basic entertainment business law
Multimedia production applications

Classes are held in the new Bob Moran Entertainment Center, which features a state-of-the-art SSL Duality Recording Console. SSL is known world-wide as a maker of fine mixing boards. From the huge drum sound of the 80's, begun by Phil Collins hit song, Something in the Air Tonight to the latest recordings by artists from Nashville to L. A., SSL offers world-class technology. To compliment the console, a selection of industry-standard microphones, preamps, and equalizers allow students to replicate the sounds and effects heard on hit records from the 60's to today. The recording studio and control room have been designed, not just for its beauty and utility, but planned by acoustic engineers to be the perfect space for audio recording, a controlled environment to get the most out of any performance.
A fully equipped computer lab gives every student the chance, both on their own and under an instructor's supervision, to compose and edit any kind of music: hip-hop, techno, country, pop, rock—the sky's the limit—with software and hardware that is a standard in the music industry.
The live sound lab is fully equipped with the latest gear to teach the art and science of mixing live performances in churches, concert halls, and outdoor concerts. For those with an interest in either the technical side, or musicians who want to learn to record their own demos or albums, NMJC has the equipment to take those first steps into a music career.
A video production studio has been designed with the video cameras, sound boom microphones, and more to create quality videos in a learning environment.
Job opportunities continue to grow in this field, including concert sound production, recording studios, theater production, movie/video production, and much more.
If you are new to NMJC, apply for admission at nmjc.edu/admission and choose Entertainment & Music Technology as your major.
If you are a current student, talk with Professor Luis Gomez about the program, to see if this might interest you as a major.
You can also schedule a tour of our brand new state-of-the-art facilities.
Associate of Applied Science (AAS) - Entertainment and Music Technology