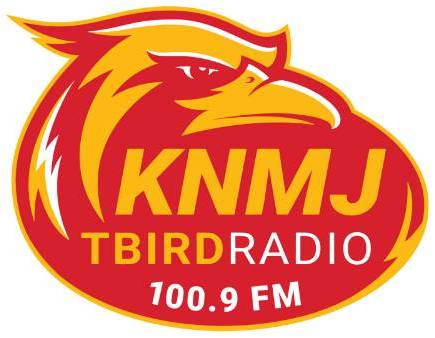 KNMJ - TBird Radio - plays songs from the 70s, 80s, 90s and 2000s. We are a non-commercial radio station, run by New Mexico Junior College.
Along with music, you can hear play-by-play home basketball, volleyball, and baseball games, plus catch all the action of the Thunderbird games live at - https://vimeo.com/.
We also feature special programs including:
Thunderbird Stories- We will be talking about at all the programs and events that NMJC has to offer! Community/Cultural events, Free ESL and GED classes, Adult Education, Training and Outreach, Scholarship Information and so much! Tune in to learn more about how NMJC is engaging students and the community at large as part of our core mission, vision, and values. Tuesdays and Thursdays at 7:30 AM MST.
Rediscover Museums- This radio show is done in a podcast style! Erin and Kim from the Western Heritage Museum and Lea County Cowboy Hall of Fame, talk about what museums are, do, and can be, along with talking about New Mexico history, and falling back in love with the rich interesting history of our state. Join them every Monday and Saturday at 11:30 AM MST as they discuss new fun topics!
To ask questions check out the Museums Facebook page :https://www.facebook.com/WHMuseum .
Email them: themuseum@nmjc.edu
Check out their YouTube videos: https://www.youtube.com/channel/UCnl5ZXTXqWZ1HB87irUUVrg
If you miss the shows on 100.9FM, you can hear them 24/7 at: knmj.simplecast.fm/
Contact: 575-492-2733 or tbirdradio@nmjc.edu