E Pluribus Unum: New Mexico Southeast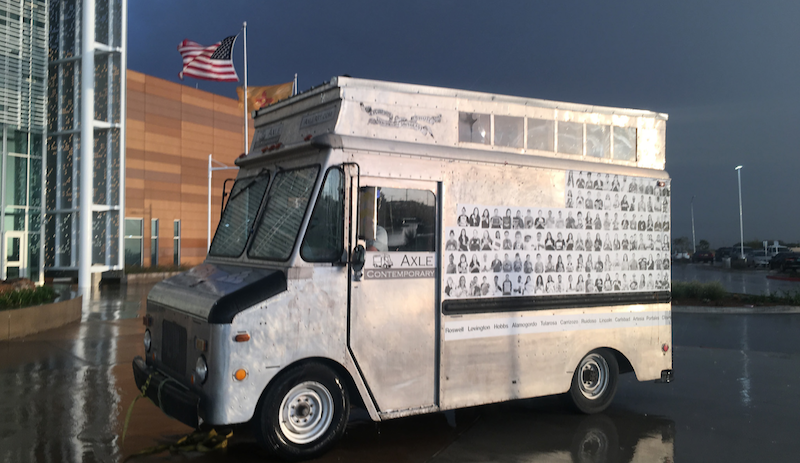 August 22 – November 3, 2019
Over the course of the month of October 2018, Axle Contemporary's E Pluribus Unum: New Mexico Southeast, was welcomed into the communities of Roswell, Lovington, Hobbs, Alamogordo, Tularosa, Carrizozo, Ruidoso, Mescalero, Carlsbad, Artesia, Portales, and Clovis.
The overall project, E Pluribus Unum, has taken place in a different area of New Mexico every two years since 2012. It enlivens and documents communities throughout the state of New Mexico, with a mobile photographic portrait studio built inside the vintage aluminum Axle Contemporary vehicle. E Pluribus Unum integrates the "audience" as co-creators in the production of the artwork. Participants enter the studio and sit for a portrait photograph, holding an object of personal significance of their choosing. Each person is in charge of how they portray themself. Through the process of self-representation, a unique portrait of the community, as individuals and collectively, emerges. Each participant is immediately given a print of his/her portrait. Another is pasted to the exterior of the mobile gallery, creating a growing and visually stunning mobile community portrait.
Axle Contemporary has created four E Pluribus Unum projects to date, in Santa Fe (2012), Albuquerque (2014), on and around the Navajo Nation (2016), and now in 2018 in Southeastern New Mexico.
E Pluribus Unum: New Mexico Southeast will be exhibited at the Western Heritage Musum in Hobbs from August 22 – November 3, 2019. The exhibition will then travel to the Roswell Museum and Art Center, where it will be on view from November 16, 2019 – April 12, 2020. A smaller exhibition of the participants from Artesia will also be exhibited, in Artesia, as an exterior wheat-pasted installation, also in 2019.