Artrageous Silent Auction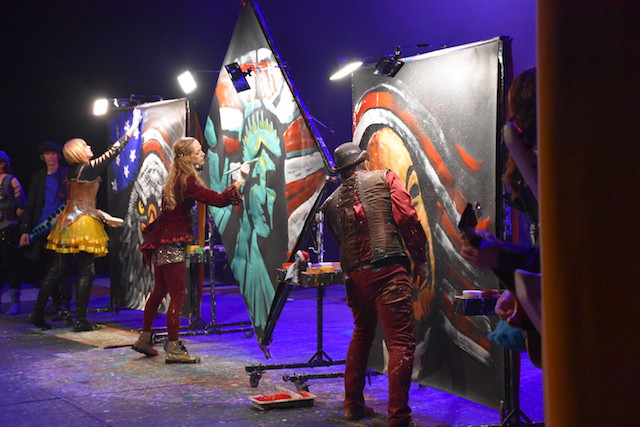 We are happy to work with the Southwest Symphony to bring you a silent auction of original artwork produced at the Artrageous concert in November 2018. The silent auction will take place at the Museum from March 5-31, 2019. Proceeds will benefit the Southwest Symphony Youth Series.
The Southwest Symphony brought Artrageous to Tydings auditorium where fine arts met performing arts. The concert was an amazing display of art, music, dance, storytelling and so much more. According to their website, "Artrageous is a troupe of 12 artists, singers, dancers and musicians hailing from the high desert of New Mexico. Their high energy performance is a combination of fine art, live music, singing, dancing, humour, and interaction in a frenzy of movement and colour with a message of the arts being an integral and valuable part of human existence." The audience became part of the show as the troupe taught them dances, pulled them up on stage, and shattered any idea of a fourth wall.
"The members of the troupe were generous enough to let us keep the finished artwork," said Southwest Symphony Board President, Chris Eubank. "The Southwest Symphony staff and board decided to hold a silent auction to benefit our popular Youth Series." The Youth Series allows the Southwest Symphony to reach the students of Lea County from elementary to high school, by bringing the performers to them for special programs, residencies, and clinics.
The artworks are on paper and are on a large scale, averaging about 5'x5'. Subjects include eagles, Frank Sinatra, Marilyn Monroe, and the Statue of Liberty. Check out the images below and come out to the Museum to bid on your favorite! Minimum bid is $30. Bidding will close at 5pm on March 31. Winners will be contacted on April 1.
Southwest Symphony was founded in 1983 to fulfill a need created by the suspension of the Community Concert Series in Hobbs, NM. From its inception, the Symphony has striven to bring a variety of music and dance programs to the citizens of Southeastern New Mexico. Each season Southwest Symphony presents several concerts featuring our own Southwest Symphony Orchestra and/or performers varying in music and dance genres.
Check out Artrageous in action.
Images in the auction: