Carroll Leavell--Housing Office
575.492.4735 (Office)
575.399.4681 (Housing 24-Hour)
575.399.2033 (Security)
Campus Housing
New Mexico Junior College Housing includes a variety of living options and provides convenient and affordable housing. NMJC has two different building styles available. Each provides modern, comfortable living accommodations that offer convenience and independence. There are 392 beds on campus (200 in residence halls and 192 apartment style).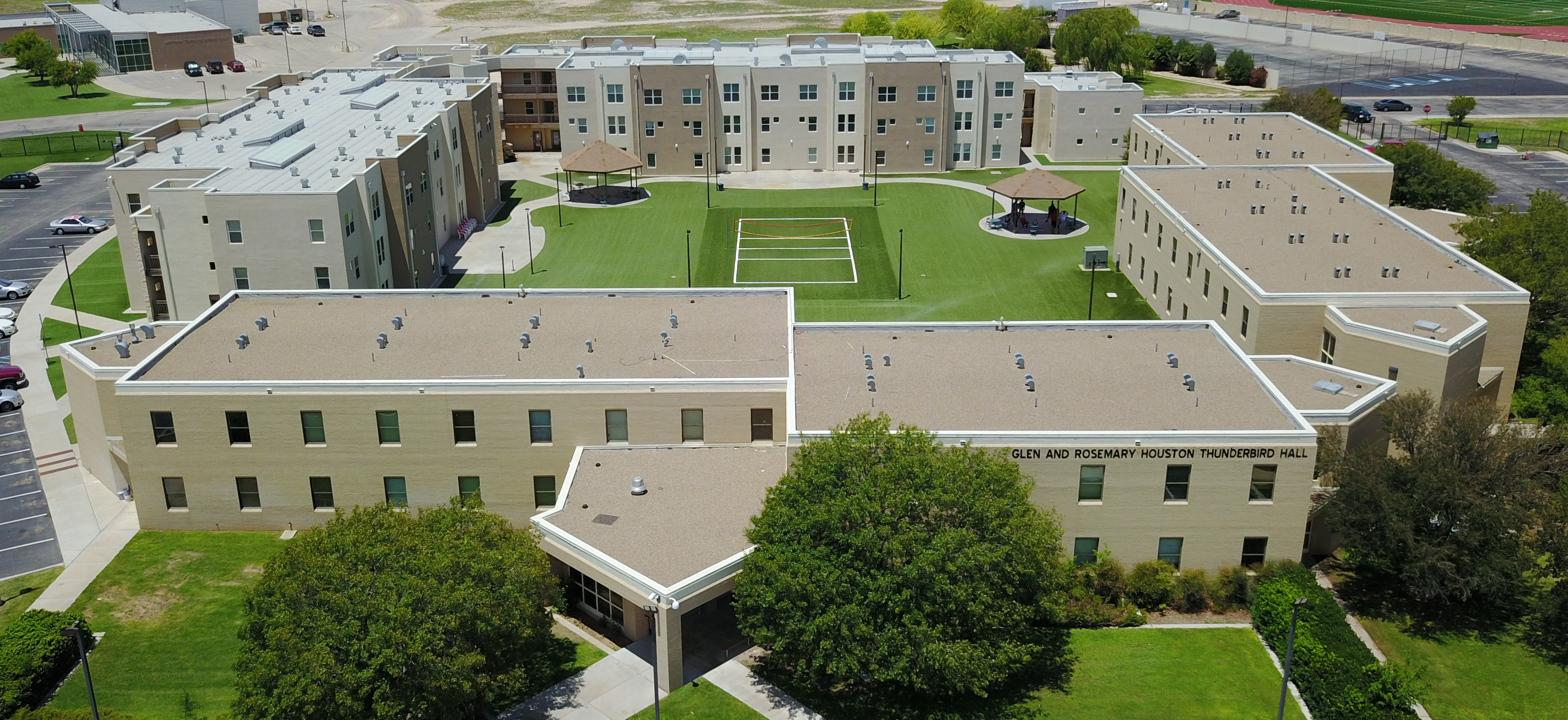 Glen & Rosemary Houston Thunderbird Hall and Harold Runnels Hall offer traditional residence hall living. Each room consists of 2 beds, 2 desks, shelving and closet space for storage, local phone service, wireless Internet service, and cable TV. Living in the residence halls does require that you select either the 15- or 19-meal plan option.
John Watson Apartments or Carroll Leavell Student Apartments offer a bit more privacy. Your private, carpeted bedroom, fully equipped with Internet, phone and cable TV access, will be furnished with an extra-long twin bed, a desk, shelving, and closet space. Bathrooms are shared with one other person. The full kitchen and living area will be shared by four people.
Educational research suggests that students who live on campus are significantly more inclined to remain in college and achieve higher GPAs in comparison to students living off campus. Compliance with college housing policy is a condition of enrollment, as set forth in the Student handbook.
Campus Housing Requirement
On-campus housing for married couples or individuals with children is not provided. Additionally, NMJC has no co-ed housing options.
Schedule of Housing Opening / Closing Dates & Rate Schedule
Refer to the Official Calendar for housing opening and closing dates. Housing Rate schedule can be found on the NMJC website
Residential Life Rates & Dates
.
Application and Payment
Residence halls and apartments require a $25 non-refundable application fee prior to assignment.
Students who cancel their room before June 1 (for fall) will receive no penalty.
Students who cancel after the above date will be subject to our cancellation policy.
Cancellation Policy
The student may cancel the agreement without penalty on or before June 1 (fall term). Students who cancel their agreement after the above date will be charged according to the schedule below. For cancellation after the applicable deadline but before the beginning of the semester, the student will be charged a $250 fee for breach of the agreement. Room cancellations made after the beginning of the semester will receive a refund based on the following schedule:
70% during the first week of term

60% during the second week of term
50% during the third week of term
40% during the fourth week of term
30% during the fifth week of term

0% during & after the sixth week of term
Students with extenuating circumstances that may justify canceling the lease must submit a written request for a waiver to the Student Life Office. Such requests may or may not result in waiver of the fee for breach of the agreement, at the discretion of the College.
If a student is removed from campus housing due to violation(s) of the campus housing policy, the student will not receive a refund for room cancellation. Students will not receive a refund for amount of room if the student is removed for violations of the New Mexico Junior College Drug and Alcohol Policy pursuant to public law 101-226, SECTION 22, The Drug Free Schools and Communities Act Amendments of 1989.)
Payment Policy
Payment in full may be made at the NMJC Business Office or Cashier. A payment plan may be set up through NELNET located on the T-Bird web portal.

The Student Handbook and Student Housing Handbook is available on the main web site, www.nmjc.edu or in the Student Life Office.
Food Services
Sodexo provides food services on campus, which includes a snack bar, cafeteria dining, and catering services. The facilities are located in the Ben Alexander Student Learning Center. The catering service is available for both on and off campus activities. In addition, the cafeteria dining program provides up to nineteen nutritious meals weekly for students participating in the various meal program options. Serving hours and dates for cafeteria dining are determined prior to the beginning of each semester. Dining rates can be found at
Meal Plans
.